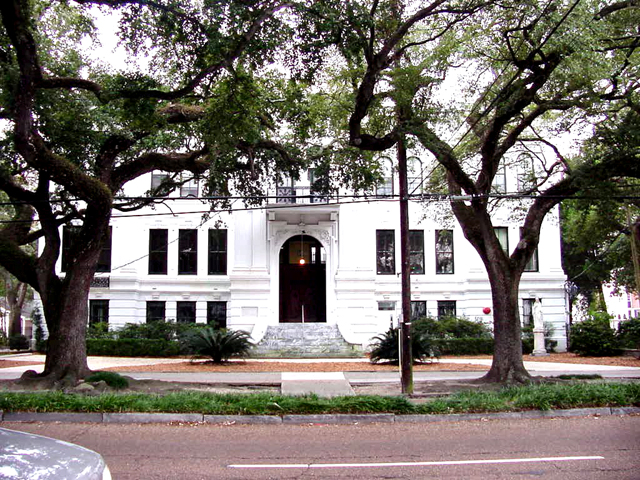 Click to hear audio homily
A couple of days ago our parish staff was on an outing to an old orphanage in New Orleans that was run by St. Frances Xavier Cabrini. Now it is an all-girl high school called Cabrini High School. Mother Cabrini arrived in New Orleans in 1892. At that time a Yellow Fever epidemic left thousands dead and many orphaned. Mother Cabrini opened this orphanage for those children. We went up to the room where she stayed, and we saw a simple desk, bed, and furniture. There is a life-sized statue of her, and when this short priest stood next to that statue, I am a tall man compared to the diminutive 4 ft 8in Mother Cabrini. It reminded me of how short Mother Teresa was; she was 4 ft 10in. But for their small size, both women were giants in what they accomplished for Jesus.
Like Mother Teresa, Mother Cabrini founded her own congregation of sisters, which quickly established orphanages and schools. Like Mother Teresa, Mother Cabrini also felt that some of the things that Jesus asked of her were beyond her strength and skills. In her diary Mother Teresa wrote, "My Jesus, what you ask of me is beyond me...I am unworthy, I'm sinful, I'm weak. Go Jesus, and find a more worthy soul, a more generous one." How many of us feel that inner resistance when Jesus asks us to do something difficult--to be forgiving, to be patient, to be kind, to let go of selfishness? And Jesus replied to Mother Teresa in prayer. Jesus said to her, "You are I know the most incapable person--weak and sinful. But just because you are that, I want to use you for My glory. Will you refuse?" Mother Cabrini faced similar resistance within her. An archbishop informed her that there was a great need for hospitals and asked her and her sisters to open hospitals. But Mother Cabrini refused because she knew nothing about caring for the sick. Then one night, Mother Cabrini had a dream. In this dream, she was in a hospital room, and Blessed Mother was tending to a sick patient. Mother Cabrini asked Blessed Mother what she was doing. And she responded, "I am doing the work you refuse to do." That dream prompted Mother Cabrini to quickly establish hospitals.
I don't think we realize how important each one of us is to God's plan of salvation. Just imagine, God has given each one of us a critical role in bringing His Son Jesus into this world. In our gospel today, St. Joseph was given that great mission. But he faced a great fear--his betrothed wife was already pregnant with a child that was not his. Fear came over St. Joseph, and he decided to quietly divorce her. Fear was the great obstacle for St. Joseph from accomplishing God's mission for him to bring Jesus into this world. Then the angel of the Lord appeared and said,
"Joseph, son of David, do not be afraid to take Mary your wife into your home.
For it is through the Holy Spirit that this child has been conceived in her.
She will bear a son and you are to name him Jesus, because he will save his people from their sins."
All of us face inner resistance, whether it is fear, repugnance, or selfishness. But God will give us strength not to be ruled by our emotions or to allow our feelings to dictate our choices. God will give us the grace to have determination, to stand upright in the face of an emotional storm. When we pray in the face of fear, God does not take away the emotions and feelings we experience. Instead, He gives us the strength to control them. We have seen how Mother Teresa, Mother Cabrini, and St. Joseph faced great fear in their own weaknesses. Reflecting on our own life, what do we suffer in doing God's will? Is it not a painful emotion that accompanies our choices? Is it not fear that makes an act of faith so distressing? Is it not the sadness of mourning that makes 'letting go' difficult? Is not loneliness or emptiness the price of remaining faithful to one's vows? Is not tediousness and boredom the burden of being dutiful to the daily round?
Love and suffering are inseparable. If we are unwilling to suffer, then we cannot love. Our love for God and our faithfulness to His mission for each one of us demand that we bear the pain that love entails. Mother Teresa said, "True love is love that causes us pain, that hurts, and yet brings us joy. That is why we must pray to God and ask Him to give us the courage to love. God wants us to love one another, to give ourselves to each other until it hurts. It does not matter how much we give, but how much love we put into our giving." She said, "It is easy to love those who live far away. It is not always easy to love those who live right next to us." She urges us, "I want you to go and find the poor in your homes. Your love has to start there. I want you to be the good news to those around you."

Let us use this last week of Advent to look within and uncover the resistance that is keeping us from accepting God's will for us. Let us use this last week of Advent to prepare our hearts for the coming of Christ.